2010 Conference Acknowledgments
---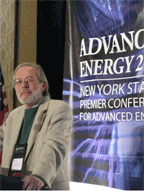 David Winchester
President
CleanTech Rocks
Mr. Winchester is part of the New York State Labor Market Information Improvement research team that will estimate how many green jobs there are and to identify new, emerging and enhanced skills needed for green jobs. It is the first comprehensive New York State research project to measure employer demand for green jobs against the capacity of educational and training resources to address these needs. The survey will focus on six industry clusters: construction; energy and environmental-related product manufacturing; electric power generation, transmission, and distribution; professional services; financial services; and building services.
In addition, he is developing a company to promote CleanTech business formation and business expansion in New York State. His primary initiative is the CleanTech QuickStart program. The program provides a significant learning opportunity for selected and high performing "professionals in transition" as well as students to develop and leverage new and existing skills, talents and capabilities while learning about the diverse opportunities present within the CleanTech industry.
He is on the Board of the Hauppauge Industrial Association, which has 1,000 members which represents the second largest Industrial Park in the U.S., where he serves as 2nd Vice Chair on The Executive Committee, Co-Chair of the Green Industry Committee and leads "The Business of CleanTech" program committee. In addition, he is on the Advisory Board for the Stony Brook University Center for Emerging Technologies, the Advisory Board for Advanced Manufacturing at Suffolk County Community College and on the Board of Tomorrow's Hope Foundation where he co-chairs the Technology Committee.