2018 Conference Acknowledgements
---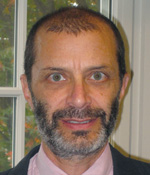 Dr. Jeremy Firestone
Director, Center for Carbon-free Power Integration
Professor, School of Marine Science and Policy
University of Delaware
Jeremy Firestone received a Bachelor of Science in Cellular and Molecular Biology from the University of Michigan in 1980, Juris Doctorate from University of Michigan Law School in 1986 and PhD in Public Policy Analysis from University of North Carolina at Chapel Hill in 2000.
Professor Firestone joined the University of Delaware in 2001. He holds his principal appointment in the School or Marine Science and Policy and is the Director of the University of Delaware's interdisciplinary Center for Carbon-free Power Integration (CCPI). Prior to obtaining his Ph.D. he was an Assistant Regional Counsel for the US Environmental Protection Agency (1986-89) and an Assistant Attorney General for the State of Michigan (1989-1996), where he practiced environmental, natural resources and energy law. He has visited at Duke, University of Maine and Ocean University of China.
His research and writing focuses primarily on offshore wind power, with emphasis on public perceptions, economic preferences, spatial planning, regulation and governance. He teaches courses on International Climate Change Policy, US Renewable Energy and Climate Law, Offshore Wind Power, and Ocean and Coastal Law.
Professor Firestone is a member of Delaware Governor John Carney's Offshore Wind Power Working Group. He is also Managing Director of a jointly developed, owned and operated (with Gamesa, which is now known as Siemens Gamesa) 2 MW wind turbine located adjacent to the University of Delaware's coastal campus in Lewes. Finally, he serves as the Chair of the City of Newark, Delaware's Planning Commission.