2018 Conference Acknowledgements
---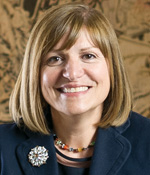 Dr. Nada Marie Anid
Dean, School of Engineering and Computing Sciences
New York Institute of Technology
Nada Marie Anid, Ph.D. is the first female dean of NYIT's School of Engineering and Computing Sciences. In this role, she oversees over 80 engineering and computing sciences faculty members and approximately 3,500 graduate and undergraduate students. She embraces NYIT's forward-thinking and applications-oriented mission and works on several strategic partnerships between the School and the public and private sector, including the creation of the School's first Entrepreneurship and Technology Innovation Center, with labs in three critical areas: IT & Cyber Security, Bio-engineering and Health, and Energy and Green Technologies. A promoter of technology entrepreneurship, she is the co-editor of the book: The Internet of Women: Accelerating Culture Change.
Anid has launched several energy and sustainability education initiatives, ranging from an National Science Foundation (NSF)-funded project A Novel Multidisciplinary, Multi-campus Under-graduate Minor to Enhance STEM Learning in Energy Science, Technology and Policy to the "UTRC Transportation Innovation Series." Under her leadership, the school has launched premier conference series and technology transfer initiatives including NYIT's Annual Energy Conference, held every June since 2005, covering topics such as "Energy in Motion, by Rail, Road and Drone," "Green Buildings, Sustainability and Performance," and "Beyond Carbon: Offshore Energy and Technologies."
Dr. Anid has also worked diligently to create a common platform for international research collaborations, ranging from a new EcoPartnership to address clean water challenges in China and the U.S., to the "Pathways for Cleaner Production in the Americas," which includes seven university partners in Latin America, to global U.S. –China NSF-funded workshops on the Food-Energy-Water Nexus.
Her own research is in the fields of alternative energy, sustainability, biotechnology, water quality, and engineering education. In 2017, she was the lead editor for Elsevier's and she has served as guest editor for the January 2018 Special Issue on Food, Energy and Water for the Journal Environmental Progress and Sustainable Energy.​